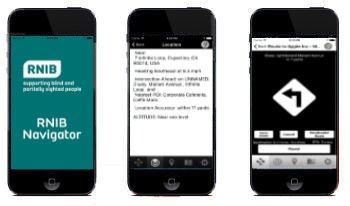 The RNIB Navigator app is a fully accessible turn-by-turn GPS iPhone app with all the normal navigation features of a GPS app plus unique features for blind or partially sighted users in the UK. Although this product is free to download from the app store with a one month free trial available. After the initial month, a subscription charge is payable upon launching the app.
RNIB Navigator is a fully accessible turn-by-turn GPS iPhone app. The features unique to blind and partially sighted users include:
Instead of multiple layers of menus, the three important navigation elements are on the lower portion of every screen: Route, POIs and Location.
At intersections, the cross street and its orientation are announced.
Intersections are described (e.g. four-way) with the clock face orientation of the streets.
Directions are configured appropriately for Pedestrian and Vehicle routes, including heads-up announcements for approaching turns, turn now, continue straight and upcoming turns.
If one wanders off the route, it's automatically recalculated and updated turn information is announced.
Point your phone in a given direction to hear what is nearby with the LookAround Wand.
Nearby Points of interest and intersections are automatically announced.
Check out the User's Guide for details on all features.
Back to Top